If you are an Instagram addict, you may have wondered why one photo can get more likes than another with hardly any differences. Well, there are many factors that influence, from the message your photo transmits, to the time you publish it. Here are several tricks to get followers and likes on Instagram.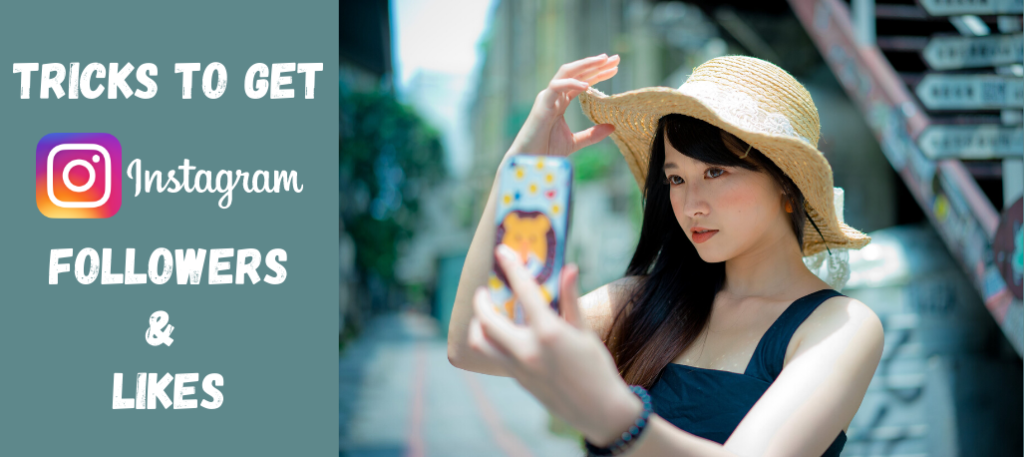 Get Followers : Quick Way
Follow the next steps and you will see how fast you get followers:
Use the hashtags #followforfollowback, #followforfollow, #follow, #instadaily, #f4f, #followme, #tags4likes, #followforlike, #instagood. These hashtags are very popular because they are used by other users to get followers.
Like as many photos as you can, that contain those hashtags.
Follow multiple accounts that use those hashtags.
Get Followers : Even Faster
In the app store, there are many applications that streamline the above process. I do not want to put one in particular because the updates are constant and would quickly become obsolete.
If you want to find an app to get followers, enter your app store and type "instagram followers" in the search bar.
Get Followers : Now, Immediately
If the previous ones have worked for you, with this trick you will hallucinate because it works really well, although it is the least recommended.
It is the fastest way to get real Instagram followers in a few seconds.
The trick is this ➔ Pay to get followers!
I do not recommend it at all, because Instagram does not take into account the followers but the likes, comments and interaction that users have with your posts.
Get Quality Followers, Even If They Are Few!
When you have done the above everyone will say: Wow … what a champion! Well everyone except your boss.
If what you are looking for are quality followers to calculate the ROI (return on investment) or directly to sell your products or services, the previous tricks will serve you for very little, since most of the followers are false and generate very little return.
For this I will recommend the following method that will work very well for you:
How To Get Followers Before Posting Photos On Instagram?
Yes, you can get followers like that. It is a technique that few know and that has very good results.
To get followers, you must inform them that you exist, and one of the most effective ways to do this is by following them:
Open Instagram
Click on the magnifier 🔍
Write a hash related to your profile
Open the photo that catches your attention
Click on the number of followers
Follow all users who have liked that photo
Thus, you will make yourself known to active Instagram users who have already liked photos similar to the ones you are going to upload and you will be able to get more followers. Get used to doing this once or twice a day, before posting your next photo.
Every day there are more than 75 million users on Instagram.
The Potential Of Instagram Direct
Are your photos/videos really good? If you have good content and you know you will like it, thanks to Instagram Direct you can share your photos/videos with specific users to reach a larger audience. You need to be taking advantage of this feature while you still can with the most effective strategy.
There are many accounts that are simply dedicated to promoting other Instagram accounts. If any account with a large number of followers posts your photo/video by accrediting you then it will serve your purpose.
To use this trick, answer these questions:
What do you know about how to do better?
Are your photos up to it?
Do you know pages that can promote you?
Send Automatic Messages
You can send automatic messages to new followers, to all your followers, prepare several messages to send and see the follow-up of each user and message sent.
Instagram shows how many times a hashtag has been used before.
Widely used hashtag: If you use a tag with millions of results, your photo will probably be forgotten seconds after publishing it. However, if you are lucky that at that time there are a few similar posts, you will have the opportunity to be seen by many users. For example: #like #love #smile etc.
Little used hashtag: Conversely, if you publish a less used tag, your photo will stay in the first search results for a long time but fewer users will see it. The positive thing about using this type of hashtags is that the audience you are targeting is a specific audience related to that topic, so you are more likely to get them to open your profile to like or follow you.
Get Likes On Instagram Posts
When I discovered the trick that you are going to learn now, I realized that the most important thing to get Likes on Instagram was to make yourself known among the users of the social network.
Therefore, if you want more Likes, what you should do first is to tell other users that you have arrived. Once they know you, they will enter your profile to see who you are, see how many followers you have and like your photos.
Sharing the photo on Facebook, Twitter, Pinterest or even WhatsApp is a little trick to get more likes on Instagram.
In the best case, the photos you publish appear on your followers profiles for a maximum of one or two hours, after which they are forgotten because nobody "goes down" as much. Depending on the total number of profiles your followers follow, you probably won't even get there. Therefore, sending the photo that you have published to other friends or followers will increase your likes and get what you are looking for.
Tricks To Post Correctly On Instagram
Upload photos with clarity and luminosity: It is known that images with more clarity and light get 24% higher likes than other dark ones.
Do not overload the funds: Images with more space in the background get 29% higher likes than others with less depth.
Dominant Color: Images with the dominant blue color get 24% higher likes than others in which the color red predominates.
Number of colors: Images with a single dominant color offer 17% higher likes than others with multiple colors.
Saturation: Images with low saturation offer 18% higher likes compared to others that use more vibrant colors.
Texture: Textured images offer 79% higher likes than others that do not.
Publish On Wednesday
Well, publish whenever you want, but Wednesday is the day that Instagram generates the most engagement (likes and comments). The order of the days of the week are as follows:
Wednesday
Thursday
Tuesday
Friday
Saturday
Sunday
Monday
Other Useful Tools And Tricks
Download an application that automatically generates labels or tags. TagsForLikes (

Google Play

&

App Store

) is one such tool that can prove useful for you.
Access

Iconosquare

and analyze your photos yourselves and know what your followers like. With Iconosquare you can find out which photo has the most likes or the most comments. It is a great tool for serious Instagrammers. It offers 14 days free trial to help you get started.
Participate with contests: Some users with millions of followers organize contests and prizes, participating in them, may end up being a game for you.
Listen to users: Spend your time spotting trends, opinions, and types of posts. Instagram is the showcase of your life.
Ask your followers: Asking for "Double-tap" is a very effective technique to get likes on your posts. A call to action message is really necessary to boost your Instagram account. Users like to be told what to do.
Tricks To Get Views On Instagram Videos
Getting more views on an Instagram video seems like a complicated task, but you will see that it is very easy when I have told you these tricks. You can increase the views of your videos in several ways:
Using an app: There are many applications to get more views on Instagram videos. If you search the app store/google play on your device, you can surely download several and you will see how your views start to increase.
Share the video on your blog: If you have a blog with many visits, you can embed/share the link of your video in a post. This way you will get more views on your videos.
Share the video on social networks: Another very simple way to increase views is by sharing the video on Facebook, WhatsApp, Twitter or any other social network.
When a user views a photo-type post, they can see the likes and comments below the photo. However, if the post you are viewing in the feed is video, you will only see the total number of views.
Getting many views on your videos will make users interested in watching the video and that will give you a better position in the results and, in turn, an increase in visits, likes and followers to your account.
Old But Gold Trick
There is an Instagram trick that has set a trend among all users of the social network. It is about following the users who have done a LIKE in a photo similar to the one that you post.
For example, if you are a freelancer and want to offer your services, you can go to your competitor's accounts, open their photos and follow the users who have liked their photos, in this way you become known to really active users interested in your services (or, at least, in those of your competition).
If many users follow you but do not click on your posts, we can understand that: they are either not interested, or they do not directly see your posts.
On Instagram, like other social networks, it does not matter what followers you have, but the response they generate about your posts.
Use the tricks and leave a comment, how many followers and likes have you got in just one week?