With the popularity of Instagram, bloggers necessarily want to take advantage of it to increase their traffic! But unfortunately, it's nowhere near that obvious. Instagram does everything to keep its users as much time as possible on its platform and therefore does not make our job easier. This is not why we must give up all hope! With certain methods, and putting little things in proper place, you can use Instagram to gain traffic.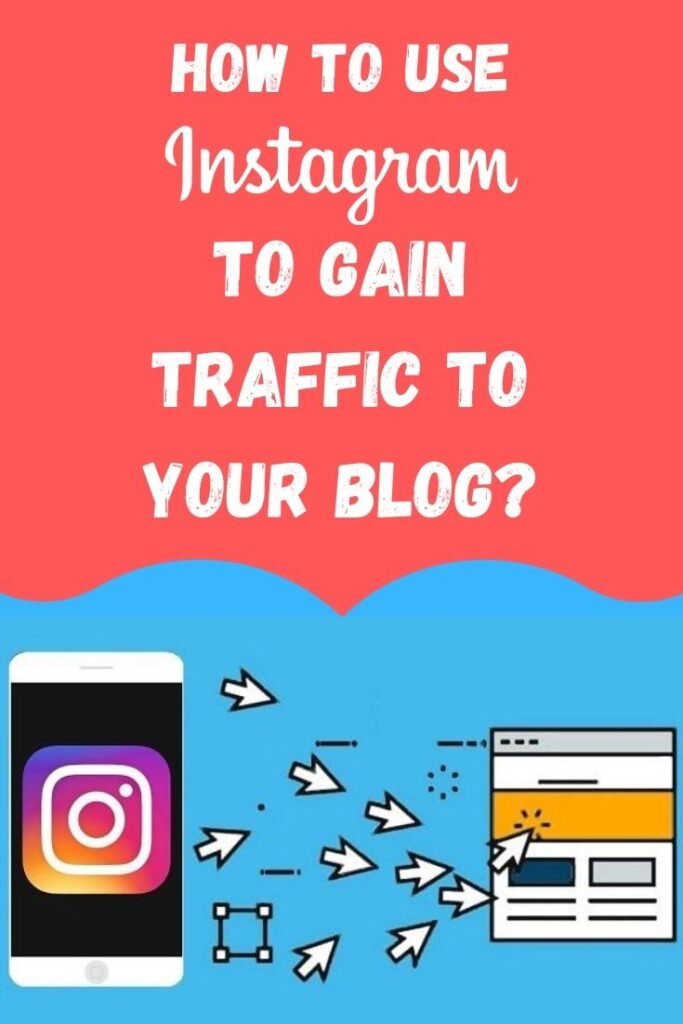 Why is gaining traffic from Instagram far from obvious?
Even when you have a good community on Instagram, it is far from easy to get to click on a link and gain traffic. When you're on Instagram, you generally want to stay there. It must be said that Instagram does not make it easy for us to make people want to click. Before we see how to help you still get traffic, let's see what is causing these difficulties.
You can't put a clickable link directly in your Instagram posts. Even if you put a link in your post, it won't be clickable. You will, therefore, have to copy the link and paste it into your internet browser to access the link. Admittedly, no one does it or on very rare occasions someone goes on to do it.
Every extra step you take to get a visitor to your site is the possibility of losing them. In addition to not being able to put a clickable link in your post, you have to be able to keep your reader's attention long enough for them to click on the link. And each additional step is a good opportunity for him to be attracted to something other than your great article
The swipe up in the story is only possible after you hit 10k followers. Yes, it is not fair. It's a great way to bring in traffic, all it takes is a swipe of a finger and there it is! Simple and efficient. But only available for those with more than 10,000 subscribers.
Do not worry, despite these difficulties, it is still possible to bring traffic with Instagram.
Also Read: 5 Benefits Of Being On Instagram As A Blogger
How to add a link on Instagram?
If you have less than 10k subscribers, the only place where you can insert a link is in your bio.
To do this, go to your profile and click on "Edit" and insert your link in "Website"
The problem is that you can only add one link. And you will probably have to add several like for: your last article, your free gift, your other social networks, your sales page, etc.
How to add several links in bio?
There are several ways to add multiple links to your bio. In a single link, you can combine several links. Your subscriber will just have to choose which link to click.
● Use linktr.ee. This is what many Instagrammers have been using and are very satisfied with it. However, some people have had issues with it. What I really like is that with the pro version, you can program your links. You can choose from which date to which date the link will be visible and this will be done automatically.
● Use Later's Linkin.bio. It also allows you to program links (in a less precise way). When you publish your post, you have the possibility to add a link that will then automatically be put on the link page. The free version is quite limited in terms of settings.
● Use smart.bio from Tailwind. It allows you to add external links to your site and also links to your Instagram posts (with the associated image), what Linktr.ee does not offer at the moment. All that's missing is the ability to program its links, attaining which will probably make it have an edge over others.
● Create a page via your blog / site in which you will add yourself the links you want. The advantage is that you are at home and therefore not dependent on another platform. And the downside is that it can take a little while for the layout.
It's up to you to choose what suits you best! You now have to add a call to action in your standard publications: "Click on the link in bio" or "The link of the article is in bio". Yes, even if everyone knows that the only clickable link is in bio, you must always be clear about what you want them to do.
Gain traffic with your stories
● Add a strong call to action. As I told you above, you must always indicate the next step that you want to see being carried out. This can be: Click on the bio link, Subscribe and receive your free e-book via the bio link, etc.
● Have a simple to understand and visible call to action. Stories go fast. Tell yourself that we are not necessarily going to stop to read a very long text systematically. So make it SIMPLE and put on some color so that it is easily visible.
● Leave some suspense in order to give life to go and discover the rest. If you want to redirect to an article, do not give all the content of your article as a story. I've seen people copy and paste their whole article and put it into a story. Obviously, we will not click on the link afterwards. Try to leave the suspense, arouse curiosity and make them want to read more. For example: do you want to find out how I managed to triple my affiliate income? I tell you everything in a new article. Run quickly click on the bio link to find out and take action! This text will of course be divided into several parts to make several stories.
Also Read: How To Get More Views On Your Instagram Stories?
Don't forget your goal
Of course, you want us to read your articles and increase your number of visitors. But don't forget that the most important thing for you should be to convert your Instagram followers into newsletter subscribers! Keep this in mind when bringing your Instagram followers back to your blog. Before you bring traffic to your blog, make sure that your entire blog is well optimized for email capturing.
Don't forget that Instagram is one tool among many. It should not be the only way for you to attract traffic to your blog / site without neglecting it. The first step you will have to do is choose which platform you are going to use to insert several links in your bio. Tell me in the comment which you have chosen or which you are already using.