You have a blog and it's already a lot of work! We must admit: managing to stay regular, publishing quality content and promoting your articles, it takes time. You may ask yourself why give yourself even more work by being present on an additional platform and what good is it?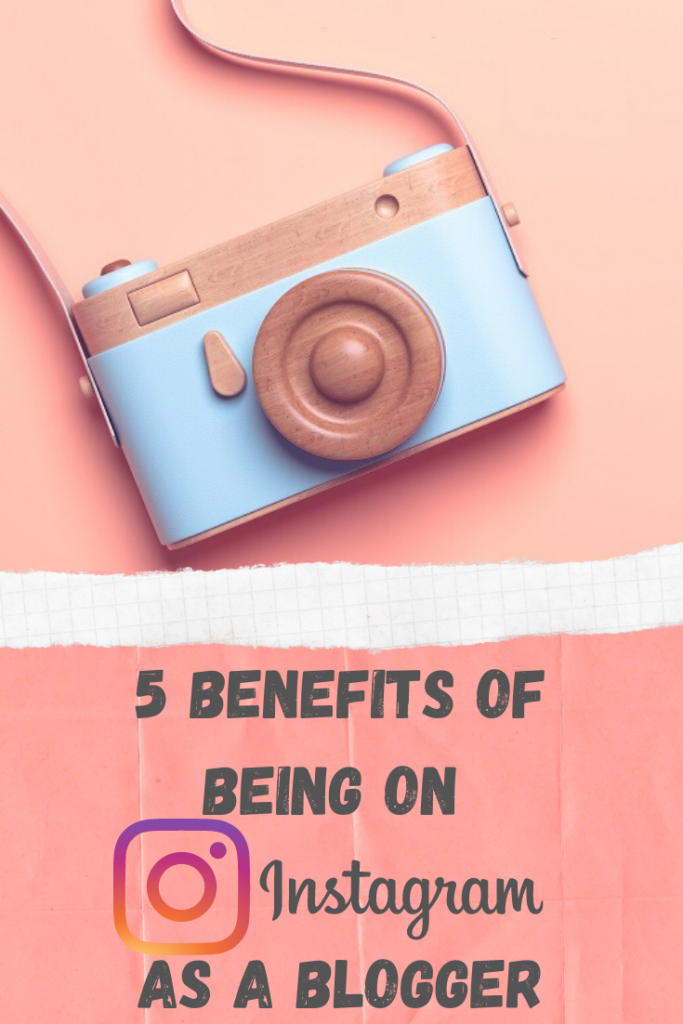 Is Instagram right for me?
Before talking about the benefits, the question to ask is whether it is necessary for you to be present on Instagram. It will depend initially on your target and then on you.
The first thing you have to define is if your target is present on Instagram?
To help you some figures:
Instagram has more than 1 billion monthly active users.
Every day, there are more than 500 million users worldwide.
Half of the users each month use the Explore tab to find new content and new accounts to follow.
80% of users are located outside the USA. The countries with the most users are the USA (110 million), Brazil (66 million), India (64 million) and Indonesia (56 million).
71% of Instagrammers worldwide are under 35 years of age.
51% of users are women.
If you find your target in the people present on Instagram, I strongly advise you to be present on it. You also need to feel a little comfortable on Instagram. If you catch buttons as soon as you connect to them, try to find another social network on which you will feel more comfortable and on which your target is. Otherwise, you risk not being able to be constant or present in a good way. You also have the option to delegate your presence on Instagram if you have the possibility.
Also Read: How To Choose The Best Hashtags For Instagram?
The advantages of being on Instagram
1. Facilitate exchanges / be closer to your subscribers
On your blog, you can of course exchange via comments and / or via e-mails that your readers send you. However, we must admit that we will less easily leave a comment on a blog than on an Instagram post. Comments will generally be less frequent and less 'personal'. On Instagram, you will have a more social and close side than via a blog. It's much easier and faster to send a private message than an email. It will also allow you to have an 'ongoing' relationship with your audience and not just once a week when one of your articles comes out. You will also be able to share small moments of life (especially via stories) which will allow you to create an even stronger bond with your readers.
2. Create a relationship of trust
Quick question: Do you easily trust someone you don't know? The answer is most likely no. And it makes perfect sense. Your regular readers will get to know you at first through your articles, especially if you talk about your experience, that you give anecdotes which happened to you. The goal of the blog is however generally not initially to talk about you and therefore allow your readers to get to know you better. Using Instagram as a complement to your blog, you will be able to give a more personal dimension to your blog. Even if you go out of your theme by talking more about yourself (without going into your private life of course) on Instagram, that is not a problem. You can share your readings, thoughts, purchases you may have made. You have a lot more freedom with stories that will only stay for 24 hours. It will take less time to prepare while allowing you to be present constantly and help your audience get to know you better.
3. Give even more quality content
You need to take advantage of all possible opportunities to share quality content. Your blog will allow you to share longer articles that will help your readers. Instagram can also be used to share content that does not require a very long article, but it can also help/inspire your audience. It is also a good place to answer questions you may receive and to discuss your good plans.
4. Promote your articles/products
Whether it's to gain traffic or sell your products/services, you need to be there as many places as possible. Instagram is not the ideal platform, but you still have the possibility to bring people back to your blog (via your bio link if you don't have the swipe up). It will also make it easier for your audience to ask you questions. Featured stories allow you to leave stories permanently: a good opportunity to present your products/services and the opinions of your customers.
Also Read: 5 Ways To Convert Your Instagram Audience Into Customers
5. Increase your affiliate income
Lastly, the benefit of being on Instagram as a blogger is that it can really help you to make affiliate income. With just a few stories, you will be able to make several hundred dollars by selling affiliate products. For that of course, you will have to gain the trust of your audience and offer them only quality! Instagram is really a great place to talk about products you've tested whenever you want to advise your audience. 
Conclusion
A scoop: Instagram is not yours! Okay, I guess you were aware, but it's worth remembering what it means. This means that if one day for some reason Instagram decides to delete your account, there is not much you can do. No matter how many subscribers you have, your account is not immune to deletion. Instagram may also no longer exist. Impossible will you tell me? If you have known MSN, did you think for a moment that it could one day no longer exist? Personally, I never considered it, until the day it happened.
You cannot be 100% sure that your account will still be there in 1 month, 1 year or more. It is for this reason that you should not bet everything on Instagram and neglect your blog and especially neglect to optimize your blog for the capture of e-mail. You can track more tangible results from the email list. However, I still contend that Instagram is the most fun of all social channels, and it's definitely become favorite way to make some of those connections and build a community. You should always be interested in continuing to learn more about Instagram, tweaking your strategies, and seeing how it grows and changes in the future!
While Instagram isn't a replacement for a blog in my opinion, it is a great addition to your blog. It would be a loss to do without this platform which will facilitate your exchanges with your readers and will be an additional opportunity to share your content and your products.
I'd love to hear your thoughts as well– be sure to leave them in the comments!