Swagbucks is a fantastic destination for online rewards. Since its inception in 2007, Swagbucks has earned more than 25 million users and paid more than $500 million in cash and gift cards to millions of users. You can earn a wide variety of rewards for your online purchases, searches, videos, and more. It is a subsidiary brand of American online marketing company Prodege.
What is Swagbucks?
Swagbucks is a platform that allows users to perform simple tasks online like searching the web, watching videos, shopping online, completing surveys, etc. to earn their branded virtual currency, called SB (an acronym for Swagbucks). You can exchange SBs for gift cards and cash.
The gift cards they offer come from more than 1,500 retailers including Amazon, Walmart, Target, Google Play, iTunes, etc. But if you prefer to earn money with Swagbucks, there is an option to convert the SBs directly into your PayPal account as cash. Or you can donate to charity if you're feeling generous. In short, if you are interested in earning rewards for things you already do, Swagbucks can be a great tool.
Why Sign Up For Swagbucks?
✅ Offers 100% free subscription.
✅ Rating of 4.3/5 on Trustpilot with over 21,000 reviews.
✅ Swagbucks parent company, Prodege is currently rated B+ with Better Business Bureau (the most important page in terms of scam control)
✅ The company started in the year 2007, so they have been running for a long time on the internet.
✅ Paid over $500 million in cash and rewards to their members.
✅ The gift cards they offer come from more than 1,500 retailers, including Amazon, PayPal, Walmart, iTunes, GooglePlay, Steam, PlayStation, Xbox, etc.
How Swagbucks Works?
After signing up when you login into your account, you have the MENU on your left, in fact, you will find so many categories that you will get confused about where to start from. You need to check out all the options to earn rewards at Swagbucks. The main ones are the following:
● Answer: Take short surveys to earn SB points. Within this section, you will also find well-known external walls. You also find the Gold Surveys that are the best paid at that time.
● Discover: You can get bored exploring this whole category. In it, you will see all the offers of any section so you can take a quick look, from cashback stores to Games and Deals Panels. I recommend you to visit it every day.
● Search: This is the search engine in Swagbucks' own browser with which we can obtain more SB points. Some searches have prizes of many points and others do not give anything.
These are the main ways to obtain income in Swagbucks, now we are going to analyze how we can get more out of this website.
How To Make The Most Of Swagbucks?
There are many ways to earn Swagbucks, but some allow you to earn money much faster than others. Let's have a look, how can you get the most out of Swagbucks.
🔍 Use Swagbucks As Your Default Search Engine
The easiest way to start earning is to change the default search engine to Swagbucks (instead of Google or Bing). You will automatically start to accumulate points just by browsing the web as you normally do, but using your browser (in case you are concerned about efficiency, it is managed by Yahoo, so don't worry).
You can expect to score approximately 10-20 SB points for every 10-20 searches, but the final total will depend on the search queries. Swagbucks allows you to make this search engine your default search engine in Firefox, Chrome, and Internet Explorer. Refer to this ➤ pictorial guide on how to do it.
🛒 Shop Online And Earn Cashback
Swagbuck also has a cashback system. In other words, you will receive money for making purchases online. This is a way to spend less money, when you make your purchases. Instead of making your purchase by going directly to the online store site, do it from Swagbucks.
As you can see, Walmart pays 6 Swagbucks for every dollar spent. So a $100 purchase on Walmart could fetch 600 SB, which would be 6% cashback on your purchase for just clicking on its link before going to Walmart. Some of the companies that participate with Swagbucks are Amazon, eBay, Best Buy, Groupon, Walmart, Just Eat, Huawei, Ali Express, JCPenney, Macy's, etc.
💰 Save With Grocery Coupons
This is like two for one; not only do they give you food coupons so that you can save more money on your purchases, but you also earn SB for using each of these coupons.

It's not a bad deal at all, you earn 25 SB for each coupon redeemed. Also you get 1 SB for each coupon you print.
🎯 Swag Codes
Swag codes are short word and number combinations that give you instant SBs and expire after a few hours or days. You can find them on their site, Facebook, Twitter, Blog, and more. To enter the code, simply visit the 'Redeem Swag Code' section at the top of the page when in your Swagbucks account. Enter the code and voila!
🤑 SwagButton
Download the SwagButton browser extension to receive notifications about "Swag Codes" as soon as they are available. By installing this extension you will instantly get 25 SB.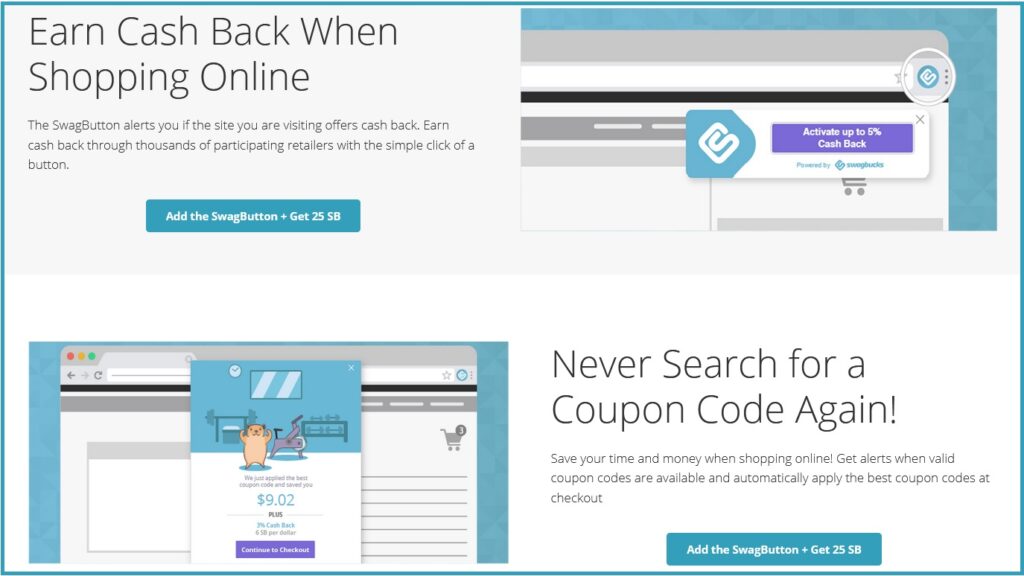 While shopping online, SwagButton alerts you if the site you are visiting offers cashback. It also notifies you when valid coupon codes are available and applies the best coupon code automatically during checkout.
📝 Completing Paid Surveys
The most lucrative way to earn SB is through paid surveys. Big brands rely on companies like Swagbucks for consumer information. When you take a survey, those companies pay Swagbucks for their responses, and they pass on part of the profits to you. Swagbucks uses the information from the registry (age, income, interest, etc.) to tailor the surveys to your needs.
You could say that surveys are the strong point of this platform. Every day you will find new ones to do, but you will have to fill in the profile as much as possible so that they send you more.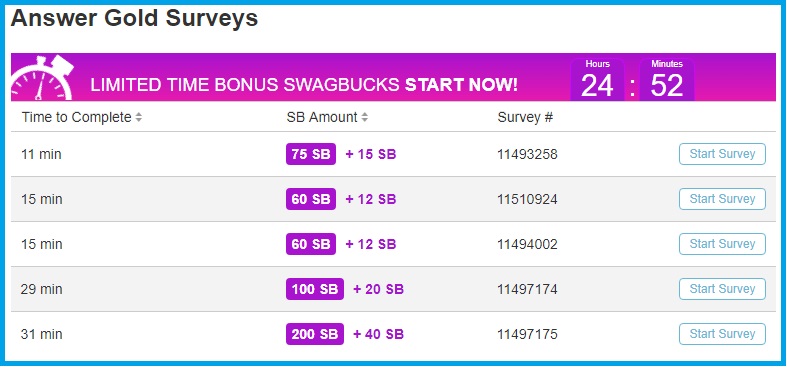 Within this section, check for GOLD Surveys, they are the best paid at that very moment. You will also find external panels that will give you more benefits and allows you to do paid tasks.
📌 Daily Bonus
On the header, you will see a "to do list" with a limited number of daily tasks that Swagbucks recommends. Not only will you accumulate points for each task you complete, but you will also earn bonus points for crossing out everything on your list everyday.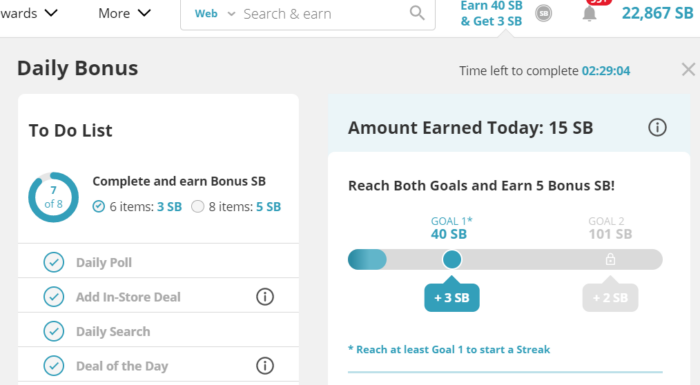 🤝 Offers From Their Trusted Partners
Swagbucks has partnered with several Offer Walls which allows you to earn more SB. They also have a variety of offers and tasks to choose from, but you'll still be paid in SB. With new offers being added daily, the offer wall increases user engagement as users consistently return to earn more.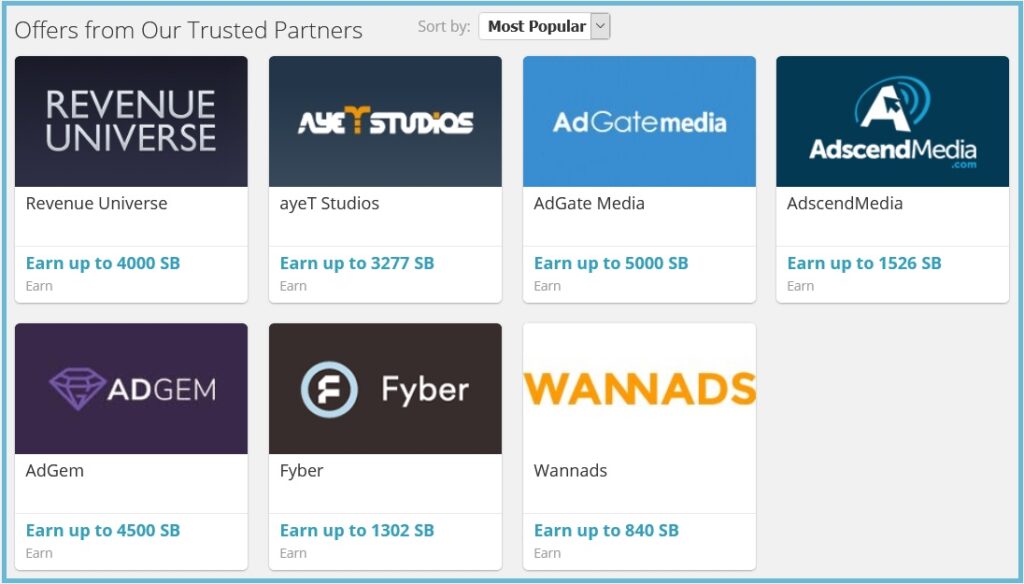 In my honest opinion, Swagbucks is a secure site that makes your payments on time, and has a good reputation among users. It has very easy ways to earn rewards, and to reach the minimum withdrawal amount quickly.
We hope that our Swagbucks hacks guide on maximizing your earnings on Swagbucks will help you get all the details about this rewarding website. As you can see, I have only shelled the most important parts of the platform but if we continue investigating, we will surely find more ways to earn money and gift cards in Swagbucks.
Now it's time to hear from you: How many rewards have you got from Swagbucks? Do you know any other effective ways to earn SB that I didn't mention in this post? Do share with us in the comments below.