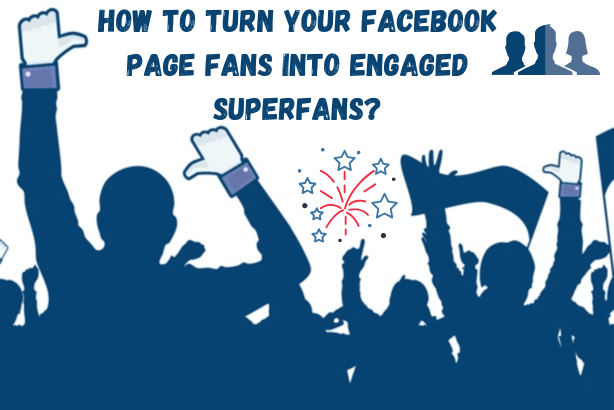 What can we find with the naked eye on a Facebook page?
On a normal Facebook page, the first thing we see is the cover and on the left-hand side, some applications that help us prioritize the content we want to be displayed. In this post, we will focus on applications that will help you improve your page by engaging your fans.
These applications can be installed manually, and we can place them in the order we want to give priority to one or the other.
If, for example, you want to change the position of any of them or simply add a new one, just click on the settings and visit the templates and tabs section where you can move or modify the tabs as you like.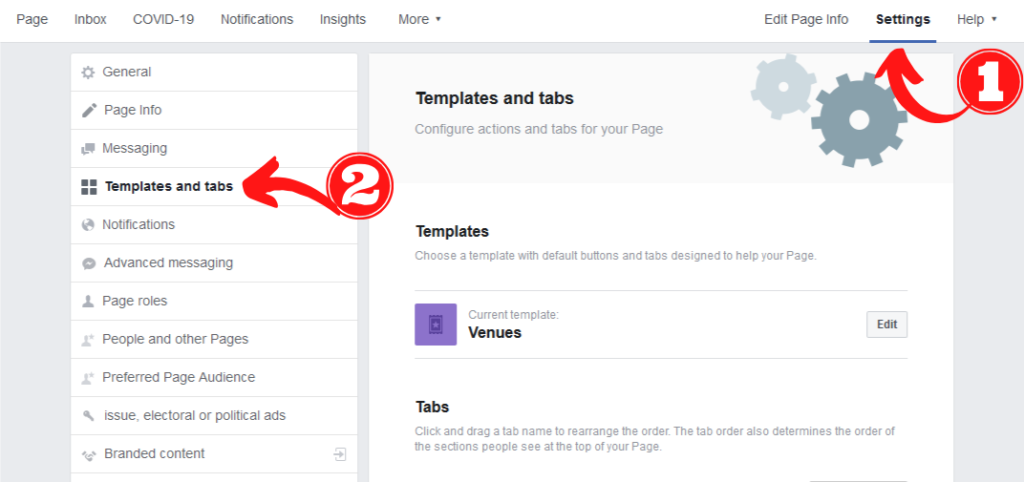 6 Facebook applications to engage your Facebook page fans
The whole idea behind these applications is to make your fans engage by running various activities on your fanpage like contests, sweepstakes, quizzes, games, polls, giveaways, trivia, coupons etc. Activities like these also result in attracting new users to your Facebook fanpage. Let's check them out one by one.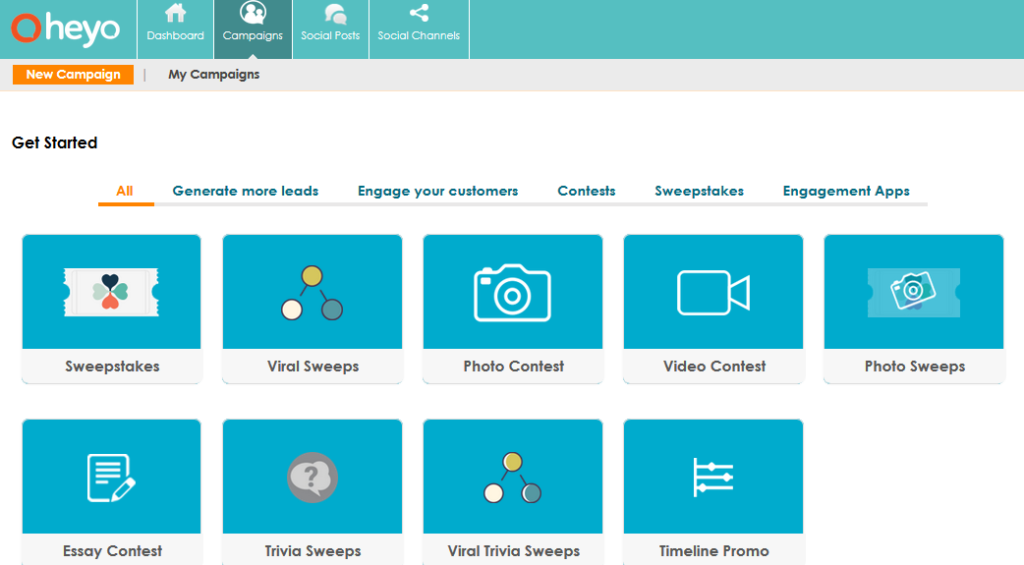 It helps us to create contests, promotions and offers by directly configuring the elements of our Facebook page. You don't need to know anything about HTML, because this simple tool allows you to create each of the blocks through widgets that you can move to create what you need.
It has 8 templates that are fully modifiable and that you start using the moment you make the decision to choose the format you want. Once you choose it, you just have to drag each of the elements you want to incorporate and drop them where you want to locate them.
Once you have them placed, to edit them, you just have to click on each one of them.
Within its utilities, it allows you to put videos, links, text or anything else you can think of for your personalized tabs. To test it, you have a free trial for a week to do a test, and if after trying the trial it convinces you, the simplest plan has a cost of $25.
It is an application that you can use it for free only if you connect through your personal Facebook account with the application. This free version does not convince me too much because it does not allow you to 100% customize your Facebook page since it leaves the Pagemodo watermark on the Facebook page. If you want to put an unlimited number of tabs and that the brand of the application does not appear anywhere, the price of its Pro version is $7.34 a month.
It helps us design custom covers and tabs on Facebook, in 5 easy steps (and in less than half an hour). It also has multiple utilities. From making discount coupons, ads in Facebook Ads campaigns, contests or promotions, and most importantly, without the need for technical knowledge.
It is a tool with which we can customize our fanpages, without having to modify the code. It bases its process on widgets, allowing it to be as versatile as possible. You can include these widgets on top of each other until you get the design you want. It is fully customizable and most intuitive, it tends to remind Photoshop a bit in the navigation menus.
The good thing about shortstack is that it is totally free for Facebook pages that have less than 25,000 fans, and it gives you the ability in this free version to publish up to a total of 10 offers. The most complete plans are available from $99.
It is a free application that helps you personalize your Facebook page in a very simple way. Just dragging and dropping the different elements you want to incorporate, until we have achieved the desired result. Within your customization, you can add photos, and background or color graphics, as well as multimedia galleries or videos.
The basic part of the application is covered with this free version, but if you want to go a little further and look for other utilities, you have to hire your Premium account, which costs $14 a month.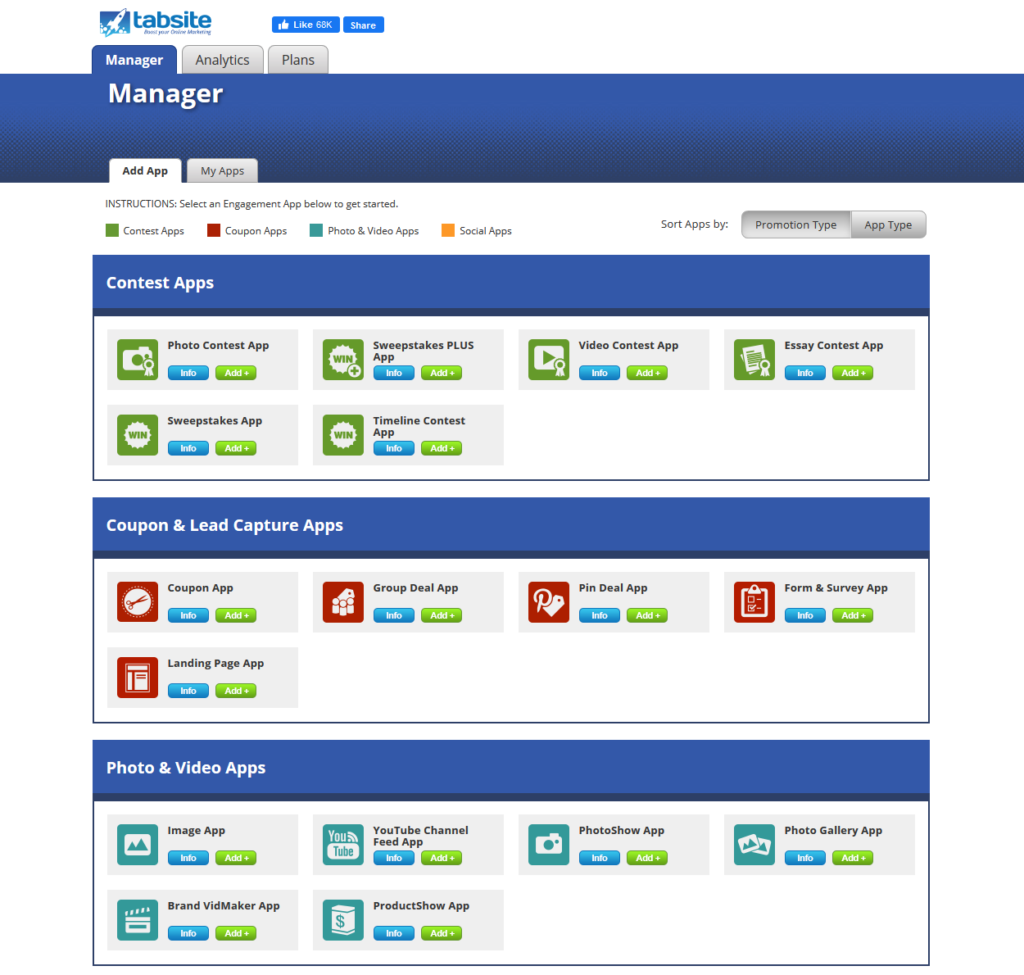 It is an application that allows you to create personalized tabs where you can run contests, offers or publish other social channels.

In its free version you can create two tabs on one page , but it gives you the option to create from contests, applications to capture leads, video and photo applications, or applications for your social networks.
It has a paid version that is available from $29.95 a month.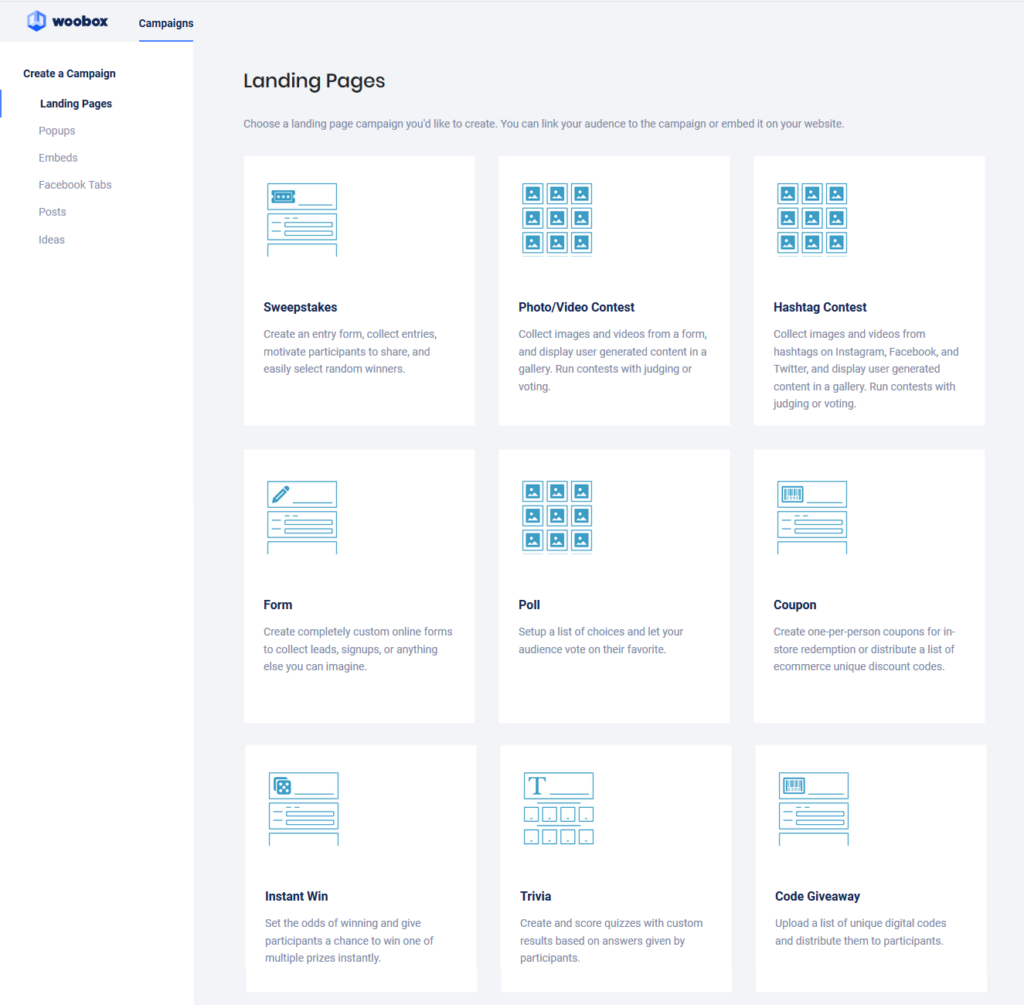 It is an application for our fanpage, which allows us to create coupons, carry out raffles, surveys, create a page of offers, etc. In addition, it allows us to personalize all the actions that we do on our Facebook page.
In its free version, it lets you create up to a maximum of 10 tabs.
If you want to do a contest, discount coupons or some more complete development, the next option is the payment option, $1 a month for Facebook pages with less than 100 fans.
All promotions you make with Woobox integrate with Facebook and Twitter. And it bases much of its development on gamification, on creating attractive options to increase the volume of followers both on your Facebook page and on your Twitter.
Do you use tools to improve your fanpage? What other tools do you know about?